Oxana Kravtsova Told Marie Claire Why She Chose Our Agency, English Nanny
Oxana Kravtsova Told Marie Claire Why She Chose Our Agency, English Nanny

portal: Marie Claire
One of the most influential businesswomen in Russia, Oksana Kravtsova, talks about how to run a business, raise children along the way, and why choose the "right" nanny among French and English women.
Oksana Kravtsova is the owner of one of the most famous luxury housing developers in St. Petersburg (the portfolio of Eurostroy includes such elite objects as the residential complex "Privilege", new club houses "Priority" and Esper Club). But also Oksana is the mother of four wonderful children. We asked Oksana in our interview about how she manages to cope with the position of director of a large successful company and maternal responsibilities.
How do you differentiate between work and family life?
I want to say that we are primarily a family company and family values have always been at the forefront for us. And, of course, I try to give my children the best. That's why I work 24/7. I try to spend all weekends and evenings with my family, but during the week I need help. Like most busy moms, I resort to the help of nannies and governesses. I have always been very demanding about the level of education, qualifications, and purity of speech of the specialists who work with my children.
To be honest, this is a fairly large expenditure item in our budget, but otherwise why make money if you do not invest it in your children. I don't see a nanny as just a person who is looking after a child, a nanny is a specialist who should help children develop their skills, teach them something new, expand their horizons.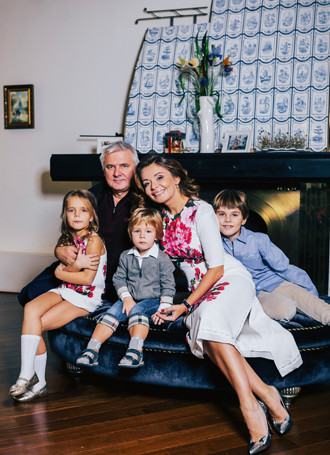 Family photo: Oksana with her husband Valery, daughter Elizabeth, and sons Fyodor and Nikita
Is it difficult to find such a nanny?
I have high requirements for everything – starting from our homes, where we use only the best materials, we use the services of trusted and reputable contractors, but I have been in this business for many years and already know where to turn. As for the home staff, the secret of selection is also simple. I need to find a leader with a reputation who can understand what I need and find the best solution for me.
I tried to search for staff via acquaintances and agencies, but the level of my requirements is very high, and at the moment I chose to work with English Nanny.
It was only after three years of work that I agreed to their request to mention them in an interview. I can recommend them, and I do it just as a thank you for the work done. And I know that we will continue working together. After all, it's nice to praise those who really can help. I'm sure my recommendation will help other families find the right staff, save time, and avoid unnecessary mistakes. Especially if we are talking about foreign staff - English nannies, personal chefs from Italy. After all, this staff is very different in their mentality and requirements.
For more than three years, the international agency English Nanny has been helping me with finding the best nannies from England, France and Russia. They introdeced me to an English governess, who was also French and music teacher. I am very happy with the result: it's amazing to see a small child speak English without thinking about how to build a sentence correctly. He just says what he thinks and conducts a conscious dialogue.
It turns out that in the education of your children, you focus on foreign languages?
A foreign language is a tool that is needed today. We use it in communication with foreign partners, in obtaining information, and just when traveling. It is much more comfortable when you are not limited to communication.
Oksana with her younger son Nikita
I recommend that parents do not waste time and start teaching children English from an early age. Children show amazing results in learning foreign languages: it is enough to communicate with them in a foreign language when they are young, so that your children can speak both Russian and English fluently at 3 years old, and by the age of five they will be able to master 3 languages - Russian, English and French.
Why did you choose this agency?
I gave a specific task to my personal assistant: find the most reliable nanny recruitment agency. She offered a choice of several agencies, among which was English Nanny. I had already heard about them from my friends in Monaco, who were looking for a nanny from England. So, I did not call the agency, I called my friends, and they gave me the phone number of the director of the representative office in Russia, Valentin Grogol. I want to say that I have never regretted that I chose them, despite the fact that the assistant offered cheaper options.
After all, saving is not always appropriate, there are things in which quality comes first. It's like in construction: you can make it cheaper, but you will lose the nuances that distinguish a premium service or product from a business or economy. You need to invest money in education and in yourself. If you need a car, you buy a Rolls Royce and are confident in the quality, if you need a nanny, find a trusted agency because each industry has its own leaders and its own authorities.
Valentin Grogol, director of English Nanny offices in Russia and Ukraine, working with Russian-speaking clients
Your eldest daughter is 20 years old. Did she have nannies from England?
No, she didn't have nannies like that, neither did I. But this does not mean that we feel flawed or that we lack something. Everything should be done when possible. Now my daughter speaks excellent English and very good French. She studies languages with native English and French speakers.
Tell us how you like to spend your free time
I love spending it with my family. We love to travel and visit new interesting places. This makes it possible to get even closer to your family, and I can often find new ideas for our construction projects.
Oksana with her younger son Nikita
We know that you have recently been recognized as one of the most influential women in St. Petersburg…
This is a very loud statement, but the editorial board of "Delovoy Peterburg" did recognize me as the most influential woman in the housing construction industry, and, of course, this is very pleasant. But influence itself is not an end goal. I like that I have a business that I love, I'm happy with my husband and children. For the sake of my family, I am ready to work hard, to create comfort and coziness not only for myself, but also for our clients.
Is there something socially significant in your list of hobbies?
We work with charitable foundations and try to attract buyers of our apartments to participate in charity events. We also work closely with the foundation "Звезды детям" (Stars for children Foundation) of Alexander Kerzhakov, a man with a very kind heart. We all try to help others as much as possible.